Garbage Disposal Malfunctioning?
Serving Middletown & Monmouth County NJ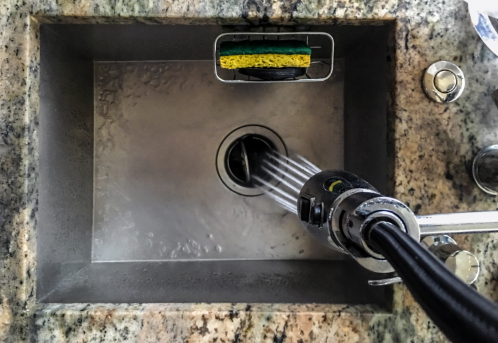 Fast & Effective Repairs
We have the tools and expertise you need
Serving Monmouth County, NJ
The Best Garbage Disposal Repair Service in All of Middletown NJ
Keep your money from going down the drain with the other guys. Call the experts at Middletown Appliance Repair & Service for quality repairs today!
Having a garbage disposal that sends food residue to treatment plants rather than to your local dump is always a plus for the environment. However, with this in mind, many residents shove large quantities of waste into their kitchen drain pipes with adverse effects. If you've done this, contributing to a broken or clogged garbage disposal, count on our top-rated appliance repair for garbage disposal repairs in Middletown NJ.
Call us at (732) 639-5509 to schedule a garbage disposal repair in Middletown.
Common Garbage Disposal Repairs
The first rule in garbage disposal repairs is never to reach your hand down the disposal. If you have a clog, use the disposal's socket wrench to maneuver the masher plate. You can also try flipping the power off and using a drain snake to clear obstructions.
If this isn't effective in releasing the stuck particles, call us for deep-cleaning services. Other common concerns we can help with include:
Unusual noises: When you throw nuts, bones, or other solid leftovers into your sink, expect to hear a clanking sound. However, if you hear this every time your disposal is on, call a technician to check for toys, jewelry, or other household items that may have fallen in. An old blade, loose screws or lugs, or damaged flyweights may also need repairing.
Unexpected leaks: A leak can originate from two places; the sink or the disposal. If you have a loose or broken flange or rubber gasket, water will seep through, causing water damage to your floors and walls. A leaking garbage disposal, though, will need immediate replacement.
Overloads: While electrical issues are few and far between with garbage disposals, a power surge may overload your system. Your disposal will also overheat and shut down if there's too much food in it. Hit the red reset button at the base of your disposal or call us for help.
Trust Middletown Appliance Repair & Service with Your Garbage Disposal Needs
At Middletown Appliance Repair & Service, we understand your garbage disposal is an essential appliance in your home. It keeps waste out of landfills while reducing the number of garbage bags you put out on trash day. If you want to get your disposal up and active again, count on our experienced and well-trained technicians.
Our maintenance specialists take pride in their garbage disposal repair work. Let them extend the lifespan of your disposal with one call to (732) 639-5509 today!
FAQs About Our Garbage Disposal Repairs
Below are some frequently asked questions about our garbage disposal repair work. For more answers to your burning questions, visit our webpage or contact us today!
What types of garbage disposals do you repair?
Our technicians have experience working with numerous garbage disposals, including continuous and batch feed.
Continuous feed garbage disposals continue to run after you switch them on, which helps with larger amounts of food at a time. A built-in rubber shield also makes for a near-silent process.
Batch feed, however, is the safer alternative. It only works when you power it on and cover the disposal lid.
With what brands do you have experience?
Some brands our technicians have worked on include:
InSinkErator (Badger 5, Badger 500, Evolution, etc.)
Waste King
Kraus
KitchenAid
Moen
Whirlaway
What makes you different from the others?
At Middletown Appliance Repair & Service, we put our customers first. We provide a quote before performing your garbage disposal repair, and we guarantee your invoice will match it. That means no hidden fees or unnecessary fixes.
We also promise to get the job done right the first time. Your repair person will listen to your concerns, troubleshoot the problem, and determine the root cause. There's no guesswork in what they do.
If you're looking for on-time around-the-clock appliance service from qualified experts, we're just a call away!
Serving Middletown & Surrounding Areas
Middletown Appliance Repair & Service is your source for high-quality appliance repair in Middletown NJ. Our team always makes you their number one priority and will do everything in their power to ensure your satisfaction.
We serve Middletown Township NJ and most of Monmouth County. If you need immediate assistance with an appliance repair or installation call (732) 639-5509 and request a free price quote from our team today!